Before you start building your brand-new cabin for hunting and fishing, there are some things you need to consider. Planning out every step will make your hunting cabin building process a lot safer, easier, and enjoyable.
What to Consider Before Building a Hunting Cabin
Here's everything you need to consider to start building a log cabin for hunting and fishing:
1. What Size Will Your Cabin Be?
You'll need to consider the size of the cabin. The ideal log cabin has enough space for bunk beds, hammocks, and even dogs. There also needs to be space for the number of people that will stay with you during your hunting trips.
If you prefer to go alone, there's no need for a bigger cabin. However, a smaller cabin won't be enough if you like to hunt with friends or family. Always remember that the functionality of your cabin comes first.
The bigger your cabin needs to be, the more you will have to invest in it. So, keep that in mind when budgeting your project.
2. Utilities
Once you know the size of your cabin, consider adding some running water and electricity. You can have a rustic construction, but the cabin can feel more welcoming if you have a heater and a shower.
There's no need to add TVs or other unnecessary electronics. Still, some running water can mean the difference between a comfortable and an uncomfortable stay.
3. Will You Need a Porch?
You also might want to consider installing a front porch. Having a deck in the front can make your cabin feel more welcoming, and it can also improve its curb appeal. You can add some outdoor furniture like a comfortable chair to enjoy nature while relaxing.
If you are looking for the perfect deck or porch for your hunting cabin, at eLoghomes we have what you need. Our decks and porches can adapt to any cabin type, regardless of size or design.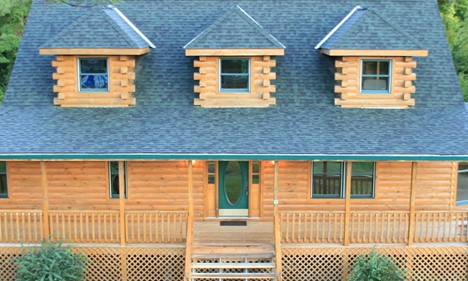 4. Your Cabin's Orientation
Once you have the right location for your cabin, you'll need to decide what it will be oriented toward. As a rule, you'll want to have the best view possible, whether it is the mountains, lake, or river.
When you find the right view, you also need to consider sunlight exposure. Unless you want to invest in black-out curtains, it would be better to construct your bedroom away from direct sunlight in the mornings.
5. What's the Weather Like in the Area?
Consider the weather conditions in the area where you'll be constructing your cabin. If your hunting cabin will be surrounded by snow in winter, you'll need proper storage for your tools and gear. If you have decided not to add utilities like electricity, you'll also need to consider adding a fireplace or a stove.
6. Make Your Hunting Cabin Plans
If you fail to plan, you plan to fail. That might sound like a motivational quote, but it is true, especially for big projects like constructing your own cabin. So, the first step is to plan out every possible aspect of your cabin. You already know what you need to consider, so this part shouldn't be that hard.
We recommend using professional blueprints to ensure that your hunting cabin is structurally sound and has all the space you need. At eLoghomes, we have the ideal blueprints for your project, regardless of how big or small you want your cabin to be.
7. Budget Your Project
If you have already saved enough money to build your log cabin, you probably know your total budget. Now you'll need to determine how much to allocate to each part of your construction project.
We don't recommend approaching construction management yourself since it can be time-consuming and potentially cause mistakes. Instead, consider buying blueprints or shell constructions to make the process faster and safer.
Remember that you'll need to include these elements in your budget. Choosing to use a shell construction or blueprint can make the process more expensive, but it will reduce the amount of time you'll need to invest in the project. It will also ensure that your log cabin is well-designed and constructed.
Once you're done with the logs, you can focus on the finishings. At eLoghomes, we have a wide selection of upgrades and finishings for your log cabin. These include handcrafted accents, doors, garages, and more. You can also add running water and other utilities during this process.
8. Rules and Regulations
Above all else, you need to keep in mind the rules and regulations of the area you've chosen to build your cabin. Remember that some states do not allow the use of wood-burning fireplaces and stoves.
So, if the area has snow and harsh winter conditions, you'll definitely need to consider adding electricity. That way, you'll be able to use a heater to keep you warm during your fishing or hunting trips.
Find Your New Cabin for Fishing and Hunting with eLoghomes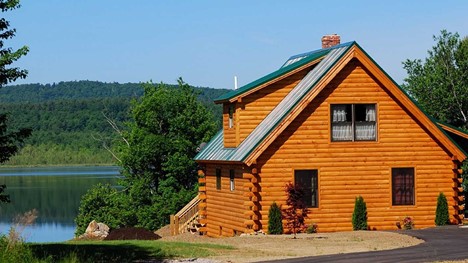 Remember that these considerations will help you build the hunting cabin of your dreams. Think carefully about each step to finish the construction process swiftly. The size, the area, the utilities, and the weather conditions are essential aspects you need to consider.
You'll also want to consider your exterior design, like a porch or deck, which will influence your overall budget for the project. Ensure you have the right materials, equipment, and plans to make the foundations solid and reliable.
However, not everyone wants to focus on making the blueprints or buying the materials yourself. If you prefer to have everything ready for construction, eLoghomes has got you covered!
We have the best log cabin kits and shell constructions to make your project easier, safer, and faster. Our plans and kits are also energy-efficient, thanks to innovative WeatherLink technology. We even offer the installation of the log home shell package purchased from us as an optional construction service!
Contact us at (888) 675-3678 or check out our model gallery for more information about our different packages and complete log home process.