Modern log homes often feature the same luxuries and amenities you'd expect to see in traditional stick-built homes. Everything from walk-in showers and whirlpool bathtubs to decked-out designer kitchens.
While trends change from year to year, they're often based on our current needs. This has never been truer than in 2022.
With so many people working from home and many opting for early retirement, homes today need to serve triple duty—as primary dwellings, offices, and retreats, all rolled into one.
It's no surprise then that lifestyle-minded design is the dominant trend for 2022. Nature-inspired color palettes, curvy furniture designs, and cozy comforts are mainstays this year.
Here are some decorating ideas for a cabin based on what's trending in 2022.
Earthy, Muted Tones
Every year, leading paint manufacturers come out with their "color of the year" selections. This year, the theme is green.
Benjamin Moore chose October Mist, a subtle sage-green hue, while Sherwin-Williams went with Evergreen Fog, a dusty gray-green tone. Glidden chose Olive Sprig, a punchier shade—like the inside of a ripe avocado.
Soothing hues are just what we need in 2022.
If green isn't your thing, not to worry. Nature-inspired hues across the color spectrum are trending, like sky blue, camel, and rust.
Earthy shades are a natural fit in log cabins. You can incorporate them with wall paint (in a bathroom, for example), cozy textiles, or with neutral color schemes in the kitchen.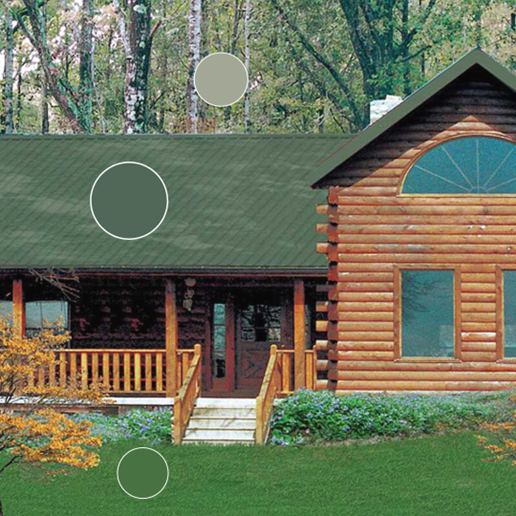 Curvy Lines
The shift away from straight lines toward softer forms started years ago, but it's really taken off in 2022. Flip through any design catalog and you'll quickly notice a theme: furniture and home décor with curvy, rounded edges.
A Pinterest report found that searches for "curved couches" and "curved kitchen islands" shot up by 300%, while four times as many people searched for "curved wall interiors" this year compared to last.
Incorporating curvy furniture pieces, lighting, and home décor is the perfect way to contrast the angular architectural features that typically define log homes.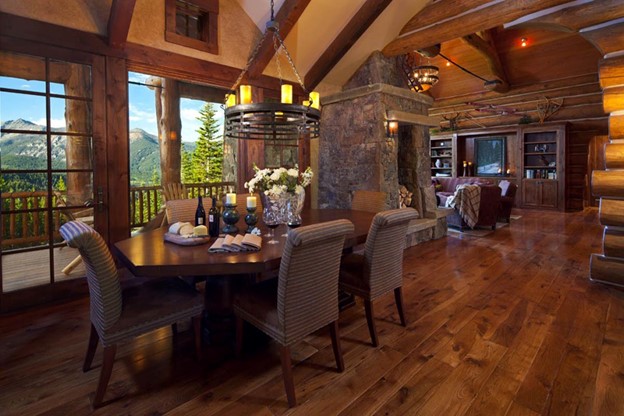 Biophilic Design
Biophilic is just a fancy word for interior design that embraces natural light, earthy color schemes, and lots of houseplants. The idea is to bring the outdoors inside.
There are so many sophisticated ways to bring life into the home. Designers today are playing with everything from plant-covered "living walls" to unique hanging installations.
Log home dwellers have a head start when it comes to biophilic design since log cabin architecture favors bountiful windows that bring in views of the outdoors.
You can embrace biophilic design philosophy by choosing earth-based colors and incorporating air-purifying plants or displays throughout the home.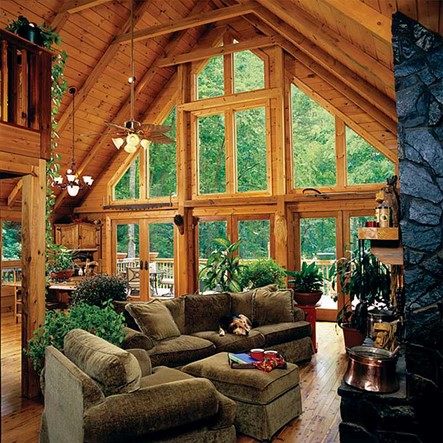 Spa-Like Bathroom Amenities
Indulgent amenities like waterfall showerheads, heated floors, and elegant light fixtures aren't limited to upscale resorts. Adding a few luxury features in the bathroom is an easy way to create your own self-care oasis and make every day feel like a spa day.
You don't need a complete overhaul or a messy remodel. Simple things like an extended shower head, clawfoot tub, or spa-inspired accents go a long way in creating a relaxing vibe. Even the simple addition of a basket with rolled towels can give the room a more upscale feel.
If heated floors sound like a dream, radiant heating is a popular choice in new log home builds. Ask your contractor or builder for recommendations on the best system for your situation.
Hygge Elements
Scandinavian winters are notoriously long and frigid, so it's no surprise that the Danish hygge (pronounced "hoo-gah") style emphasizes coziness, warmth, and togetherness.
Simple comforts like soft, natural materials, neutral colors, and mood lighting define hygge, which is as much a feeling as it is a style.
Some of the staple features of hygge design include pared-down (clutter-free) rooms, layered textures and materials, and a communal dining area—all of which fit effortlessly into the aesthetic of log cabin interiors.
Local, Sustainably Sourced Furnishings
As awareness grows about our environmental footprint, more people are striving to buy consciously made furniture and décor items.
People want to know what's in the products they buy and whether the materials were sustainably sourced. It's why there's been such a huge uptick in sales of everything from organic mattresses to FSC-certified wood furniture.
Materials matter, but the best way to reduce your carbon footprint is to buy local and use eco-friendly regional suppliers.
Also think about incorporating reclaimed items into your design, from old barn doors to reclaimed wood furniture. You'll reduce your carbon footprint while adding character to your log cabin.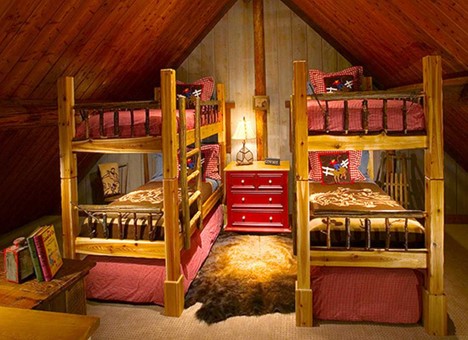 Find Your Perfect Log Cabin Home
We hope these 2022 home decor trends have given you decorating ideas and inspiration.
If you're thinking about building a log cabin home, you'll find the perfect floorplan with eLoghomes. We're the nation's premier manufacturer and builder of log home kits. Our catalog includes more than 200 models, from small cabins to multi-story luxury homes.
eLoghomes streamlines the process and offers guidance and support throughout your home-building journey. Get in touch to learn more.