Most people seek out log cabin living to get closer to nature. Whether you're building a lakeside cabin for family vacations or a mountain retreat with incredible views, beautiful landscaping will help you enjoy your new home even more—inside and out.
If coming up with a landscaping plan on your own feels overwhelming, consider hiring an expert. A professional landscaper can recommend trees and plants that are appropriate for your region and that match your home's aesthetic.
Whether you decide to hire an expert or go for it on your own, here are some landscaping tips to help guide you.
Know your climate zone.
To ensure your plants and trees thrive, choose species that are well adapted to the climate zone where you plan to site your cabin. Check the USDA's Plant Hardiness Zone Map to determine your zone.
You have more flexibility when it comes to annuals, since they're meant to last only one growing season. But if you want your plants to last year after year, choose varieties that can tolerate the year-round conditions in your area, from heavy snow to long dry spells.
Use native plants.
A native plant garden perfectly complements the natural aesthetic of a log home. Native plants, flowers, and trees don't require fertilizers, they're easy to maintain, and they often use far less water than lawns.
They also blend in with the surrounding landscape and provide food and shelter for wildlife. In short, a native plant garden is a great way to steward the land where you live.
Create a buffer zone.
Good air flow is an essential component of landscaping for log homes. Set back any groundcover plants or shrubs at least 3 to 5 feet from the exterior walls of your home. This will help prevent the formation of mold and mildew.
Plants that touch the exterior walls of your home not only create moisture-related issues, but they can also attract rodents and create a fire hazard.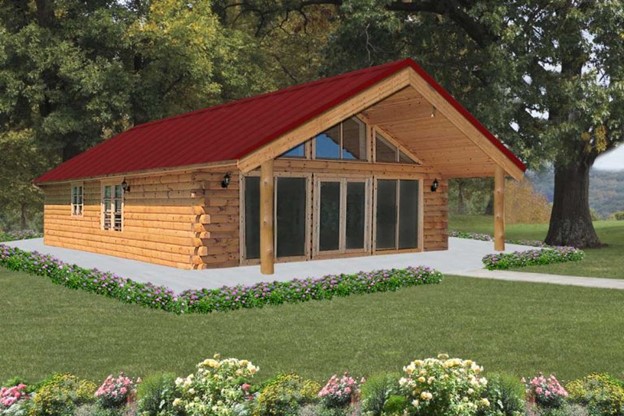 Think about maintenance.
If you don't want to spend your weekends pruning, mowing, and weed whacking, here are some tips:
Choose native plants and trees; they're easier to maintain and require less water.
Add hardscaping, like pavers, bricks, and decorative stone.
Choose artificial turf; today's options look and feel like the real thing.
Mulch like crazy to prevent weed growth.
Incorporate ornamental grasses (such as bunch grasses) and succulents.
Create a container garden to prevent excessive growth.
Choose trouble-free trees.
When choosing trees for your landscape, opt for low-maintenance varieties that won't drop a carpet of spent blooms, messy berries, or invasive seedlings.
Some trees have deep root systems that can damage your plumbing lines or your home's foundation. And while trees are wonderful for shade, they need to be strategically placed. As a tree grows and matures, you don't want branches hanging over the roof of your home. Fallen leaves, needles, pinecones, and sap are fire hazards.
Understand how the crown of a tree will grow and spread before planting. A landscaping expert can help you determine which species are best for your property.
Go with perennial shrubs.
Annual flower beds can be spectacular. But since they only last for a season, annuals can be time consuming and expensive to maintain.
Thankfully, there are plenty of perennial shrubs that produce beautiful and fragrant blooms. From night-blooming jasmine to rhododendron, flowering shrubs tend to be hardy, and many are suitable for a wide range of climate zones.
Cut back on weeding with mulch.
Mulch is great for soil health. It provides essential nutrients, helps soil retain moisture, and keeps the ground cooler on hot days. It can also prevent weed growth around flower beds and in vegetable gardens.
Mulch is any organic matter that can be spread over the soil. Examples include wood chips, fallen leaves, and pine straw. You can also use inorganic material, like crushed lava rock or gravel, to create a tidy-looking outdoor space.
Mix it up.
Contrast is key to creating an eye-catching landscape. Add height with trees, use shrubs to create a sense of depth, and play with different colors and textures.
Choose plants with different forms and leaf structures. For example, intermingling ground cover plants with tall broad-leaved varieties like banana will make the landscape more visually interesting.
Break up the space into different zones, using lines to create the illusion of depth and distance.
Not sure where to start? Sift through landscaping magazines and websites for inspiration. Or call on a professional landscaper for guidance on natural landscape ideas.
Admire your new landscaping from above.
What better way to enjoy beautiful new landscaping than from a spacious deck or porch? eLoghomes is a leading national provider of fully customizable log home kit packages.
Many of the log cabin models in our extensive catalog include decks and porches. We can also add a custom outdoor space to your home with optional upgrades, including handcrafted posts and rails.
You'll find the perfect log home floor plan for your needs in our catalog. Search from more than 200 models, ranging in size from 400 to 4,000+ square feet. Your dream log cabin home awaits!