The tiny house movement exploded around 2009 in the wake of the housing crash—and there's no sign of a slowdown.
But it's not just tiny homes on wheels that have grown in popularity. Small cabins on permanent foundations also have a growing fan base. More people than ever want the freedoms and benefits that come with a pared-down lifestyle (like lower utility bills and less debt).
A smaller cabin requires less maintenance and can save you money at every turn—starting with the cost of land. And when you build your own log cabin from the ground up, you get to customize it to your preferences and add innovative space-saving features right from the get-go.
Sometimes less really is more.
If you plan to join the growing number of tiny cabin dwellers—whether for your primary home or a vacation getaway—these tiny cabin ideas can help guide you on how to make the most of a home with a small footprint.
1: Add a deck or porch.
Incorporating a deck or porch is a cost-effective way to increase the size (and value) of your cabin.
A large deck or patio can easily add hundreds of square feet of living space to your home. And since a deck naturally draws you outside, it can help you and your family stay more connected to nature.
If you live in an area that gets a lot of rain or snow, keep in mind that decks and porches can be modified to accommodate the climate where you live. A covered deck, for example, will allow you to use the space in winter, while a screened-in deck or porch will keep the mosquitoes at bay in summer.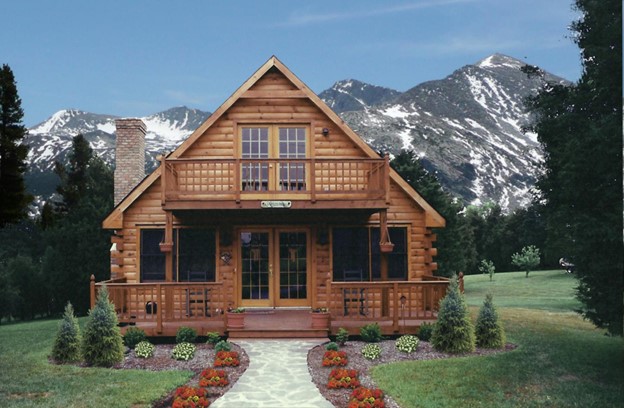 2: Go with high ceilings.
A vaulted or cathedral ceiling can make even the smallest spaces feel grand. In fact, increasing the height of a ceiling by just a foot or two can make a room feel less claustrophobic.
If you don't like the idea of "empty" vertical space, a cabin with a sleeping loft is an ideal compromise. This classic design gives the main living area an open feel while still utilizing vertical space in an innovative way.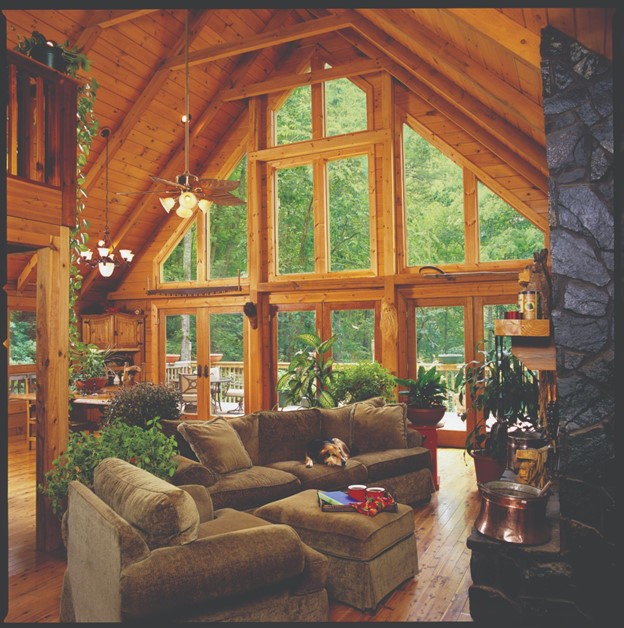 3: Find creative storage solutions.
If the tiny house movement has taught us anything it's how to squeeze the most out of every square inch. Here are some clever storage ideas:
Turn your bed into a storage unit with a captain's bed frame or install a Murphy bed.
Add bench seating with built-in storage to a breakfast nook.
Choose a sofa or sectional that has hidden storage compartments.
Incorporate built-in storage into your staircase ("stair drawers" are a mainstay of the tiny house community).
Invest in modular furniture pieces that offer maximum flexibility.
Work with your builder or contractor to find creative storage solutions that help you maximize space.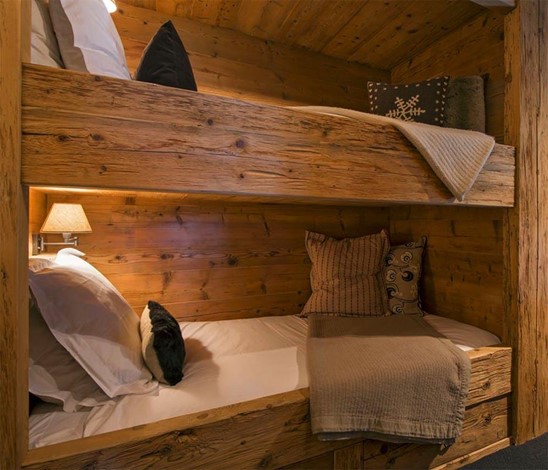 4: Choose sliding doors.
Traditional swinging doors can cause problems, even in large homes. It's safe to say we've all encountered a tight corner where three doors intersect awkwardly.
Sliding doors eliminate this common problem. It's why they're so popular in contemporary home design. Sliding doors can also help create a better sense of flow from one space to the next. Building a cabin from the ground up gives you the perfect opportunity to incorporate this space-saving feature into your home.
Just be aware that sliding doors do take up wall space. If this isn't practical, pocket doors may be a good alternative. Ask your contractor or builder about where you might be able to incorporate sliding or pocket doors into your cabin design.
5: Opt for a space-saving staircase design.
Nothing eats up space like a bulky set of stairs. A narrow, straight staircase built against a wall takes up less space than u-shape or right-angle stairs.
If your cabin will have a loft, a ladder or spiral staircase are good space-saving options. Spiral stairs make it challenging to move bulky items, however, and they're not ideal for people with limited mobility, so choose carefully according to your needs.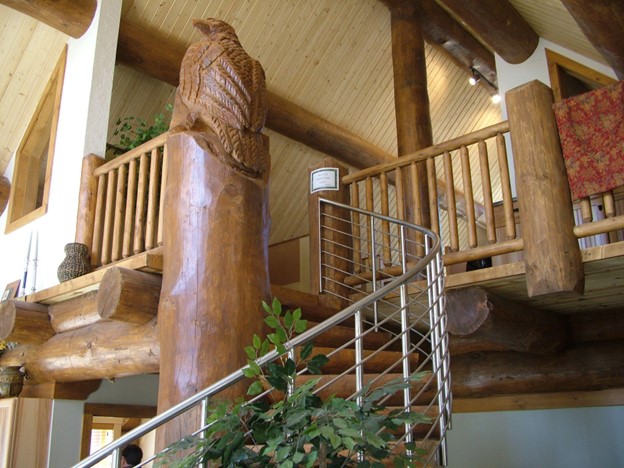 6: Incorporate a slim fireplace.
A fireplace is a must-have for many people, but a traditional built-in hearth can take up an entire wall. Thankfully, there are plenty of space-saving designs that preserve precious square footage.
A freestanding wood-burning or gas stove is a good option if you have a free corner. Another option is a hanging (wall-mounted) fireplace with a slim design. They're easy to install and take up very little wall space. A third option is a portable fireplace. Bring it out when you need it and tuck it away when you don't.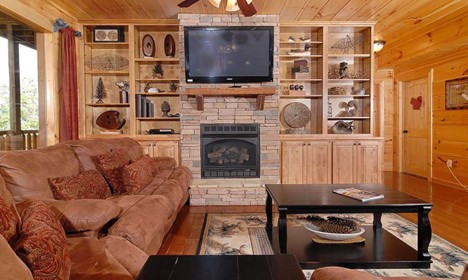 7: Choose an open floor plan design.
An open floor plan makes common areas feel more spacious, and they help foster togetherness. To make a small cabin feel larger, choose a design with a great room that merges seamlessly into the kitchen and dining area, like the Plymouth model by eLoghomes.
Also opt for a model with large windows or skylights to bring in more natural light and views of the outdoors. If you plan to build a deck or porch, be sure to install sliding glass doors or large windows that offer a clear view to the outside. This helps create the illusion of more space.
8: Pick the right-sized logs.
Proportion matters when it comes to log size for your cabin. Huge logs don't make sense for a tiny cabin, and they can end up making the space feel smaller.
Log size can impact energy efficiency, so be sure to ask your log home supplier which size logs make the most sense based on the size of your home and the climate of your region.
Why Going Small Makes Sense
Whether your dream is to live a minimalist, off-grid lifestyle or you want a classic lakeside cabin for family vacations, a well-designed cabin can meet all your needs—even a one-room log house.
One of the greatest benefits of small cabin living is how it fosters connection with nature. By design, tiny cabins encourage more interaction with the great outdoors. It's one of the most common reasons people seek out this lifestyle.
But there are so many other benefits to small cabin living. A tiny cabin is energy efficient, costs less to build, furnish and maintain, and is cozier and more intimate.
Ready to Build Your Log Cabin Tiny Home?
More people than ever are choosing to use a log cabin kit to build their home. It's an affordable, efficient way to build a log cabin. With a log home kit, the floorplans have already been expertly engineered and designed, so there's no need to hire an architect.
eLoghomes offers more than 200 customizable log home models, including dozens of tiny cabin homes starting at 320 square feet. Search our extensive catalog to find the perfect cabin for your needs and join the thousands of clients who have used our kits to build their very own custom log cabin home kits.