A guest bedroom should feel like a home away from home, whether your guests stay for a single night or all summer long. Comfort is key. Luckily, cozy warmth goes hand in hand with log cabin aesthetics.
Log home bedrooms have evolved over the years. Modern guest rooms are often designed as mini suites, with the bedroom, closet, and bathroom all in one space. Like the master bedroom, many guest rooms today also include a sitting area and fireplace.
Regardless of the size and configuration of your space, these cabin bedroom ideas will help your guests feel right at home.
Provide outdoor access.
A private outdoor space off the bedroom can transform a so-so guest room into a luxury suite. Guests will love sipping coffee on the deck or watching the sunset from the garden patio.
To maximize views of the outdoors, ask your builder or general contractor to install additional windows on either side of French-style glass doors or a slider. This will bring in more natural light in the morning and afternoon while creating a sense of seamless flow between indoors and out.
Don't forget to provide light-blocking shades or curtains for guests who like to sleep in.
Sprinkle welcoming touches throughout the room.
When it comes to cabin bedrooms and decorating, the goal is to make your guests feel special. Adding thoughtful touches throughout the room will help visitors feel right at home.
A vase of fresh flowers and a "welcome" sign are gracious ways to show your guests you've been looking forward to their arrival.
Luxurious amenities like in-room tea and coffee, quality linens, and a basket of fluffy rolled towels will give the room a hotel-like feel. And, of course, a comfortable mattress and soft sheets with a high thread-count are musts for your guest room.
Since everyone sleeps at a different temperature at night, layer up the bed with plenty of blankets, throws, and pillows. This way overnighters can tailor the bed to their preferences and comfort level.
Add a fireplace.
Give your overnight guests a five-star experience with an in-suite fireplace. A hearth adds the wow factor, and visitors will love winding down at night by the crackling fire.
Have your builder or general contractor incorporate a fireplace into the guest room during initial construction. If you're not comfortable with the idea of guests handling firewood, opt for a gas or propane-burning fireplace insert.
If adding a fireplace isn't in the cards, an easy and affordable alternative is a mantel with a candelabra display—or even a display of candles inside a wood-burning stove.
Whatever option you choose, make sure the space is properly ventilated.
Provide a nook or seating area.
If there's enough space, incorporate a seating area into the guest bedroom—a nook where guests can relax, read a book, or watch a flick before bed. A dedicated corner of the room with a couple of plush chairs, soft textiles, and a small table will give the room a hotel-like feel.
If your guest room has large picture windows, arrange the seating area in a way that lets guests admire the view.
Maximize occupancy with bunk beds.
When it comes to small guest bedroom ideas, bunk beds are a great solution. They make it possible to host even more friends—and even entire families.
Standalone bunk beds tend to be imposing and can easily take over a room, but there's a solution: built-in bunk beds, which are super cozy and have a smaller footprint. And with the sleeping quarters neatly tucked away, you'll have plenty of room to add a seating area and storage.
Have your builder or contractor install recessed lighting into each bunk space and—voila—perfect little sleeping nooks for overnight guests.
Invest in good lighting.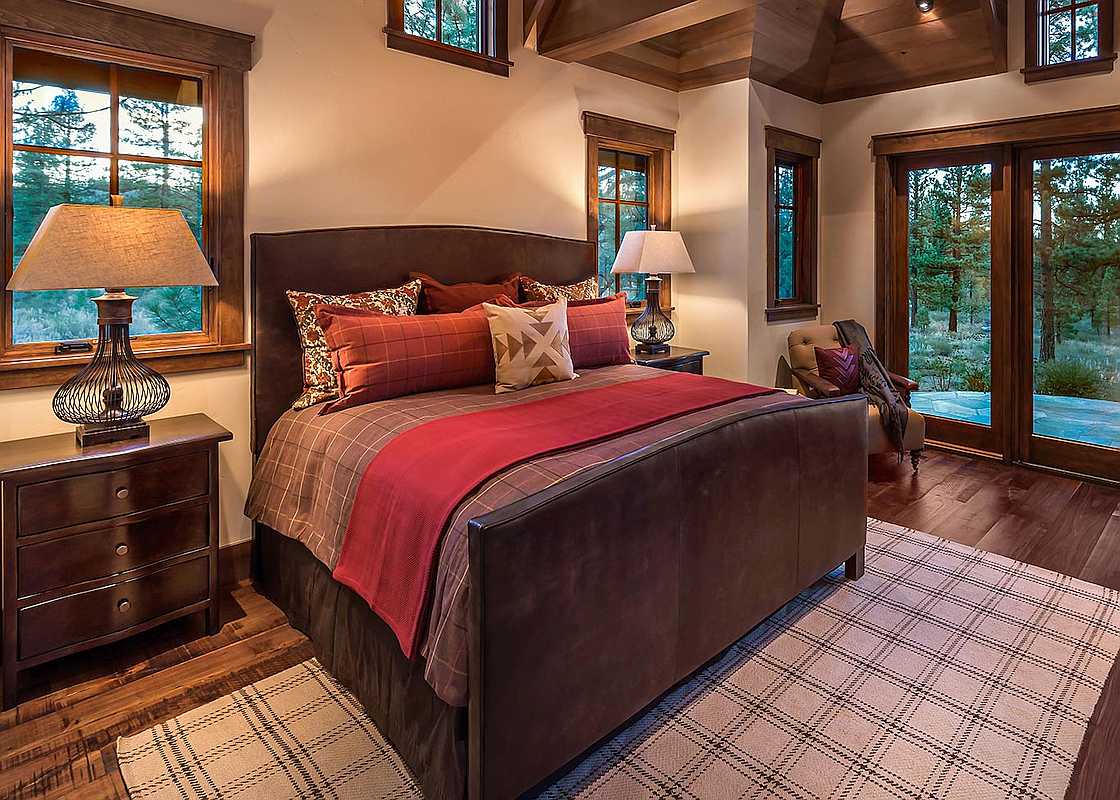 When decorating your guest bedroom, don't make lighting an afterthought. Make sure the space is well-lit by adding layers of lighting, including ambient, decorative, and task lighting.
For bedside task lighting, table lamps with built-in gooseneck reading lights and USB ports are a good choice. Another option is to add retractable wall-mounted lamps above the bed.
A decorative floor lamp provides ambient light while also creating a focal point in the space.  Recessed or track lighting with dimmer switches lets guests adjust the overall amount of light in the room to their preferences.
There are lots of options for mood lighting, from salt lamps that give off a soothing pink glow to table lamps with colored shades. Mix it up!
Find Your Perfect Log Cabin Floor Plan with eLoghomes
Build your dream cabin with a log home kit from eLoghomes. Our fully customizable home models have already been expertly designed and engineered, streamlining the home-building process.
eLoghomes offers hundreds of log home models, ranging from 400 to 4,000+ square feet. You'll find the perfect floor plan for your needs in our extensive catalog. Get in touch with our expert team at 1-888-675-3678 to learn more.