Modern log cabins have all the features and amenities you'd expect in a traditional home, from gourmet kitchens to spa-worthy bathrooms—but with a rustic twist. Log cabin décor is all about creating a sense of warmth and retreat from the wild landscapes just beyond the front door.
Log cabin bathrooms are no exception. From natural wood accents to jacuzzi tubs to reclaimed treasures, there are so many ways to create an inviting bathroom sanctuary.
Whether you're redecorating a log cabin bathroom or planning out the space before initial construction, these log cabin bathroom ideas are sure to help get your creative juices flowing.
Create a spa-like retreat.
Give family and guests a five-star experience at your cabin by incorporating a whirlpool bathtub in your master suite or guest bath. After a long day of skiing, hiking, or boating, who wouldn't want to indulge in a long, hot soak to relieve aching muscles?
Play up the spa theme with a selection of fragrant toiletries (body lotion, soap, shampoo, and conditioner). Add some candles or mood lighting and a basket of hand-rolled towels to put the finishing touches on your bathroom retreat.
Use natural materials.
Even in log homes, bathrooms are often finished with drywall. To create a more rustic, cabin-like atmosphere in the bathroom, use natural materials like stone and wood.
A stone shower, wood siding, or a wood-beam ceiling are all great ways to bring the outdoors inside and give the space a natural, earthy feel.
Maximize a spectacular view.
Whether your cabin is perched on top of a snowy mountain, tucked into the woods overlooking a lake, or nestled into the desert landscape, large picture windows will help you make the most of a world-class view.
If you're still in the planning phase of building your new home, ask your builder or contractor about installing picture windows or even a large sliding door that opens onto a deck, patio, or balcony off the bathroom. Inquire about optional upgrades if you're using a log home kit.
Add homey touches.
Just a few simple elements can help you create a more welcoming space in the bathroom. Homey touches like candles, thoughtful wall décor, a basket of hand-rolled towels, and a small floral display can take the space from functional to inviting.
If your bathroom is windowless or has dark wood siding, brighten up the space with good lighting and bright décor. Floral patterns can also help warm up the space—just be sure to use them sparingly.
Pick soft colors.
Use soft hues in the bathroom to temper darker elements like wood siding, log walls, and dark stone and tile. Lighter shades are also a good choice if there's a lack of natural light in the space.
Stick to natural tones, like beige, tan, sage, and olive. Avoid bright colors, which tend to look garish. Also avoid too much gray, which can make the space feel drab.
If you're still in the planning or initial construction phase, ask your builder or contractor about light-colored tile or stone for the countertops and flooring, along with light wood accents.
Add a focal point.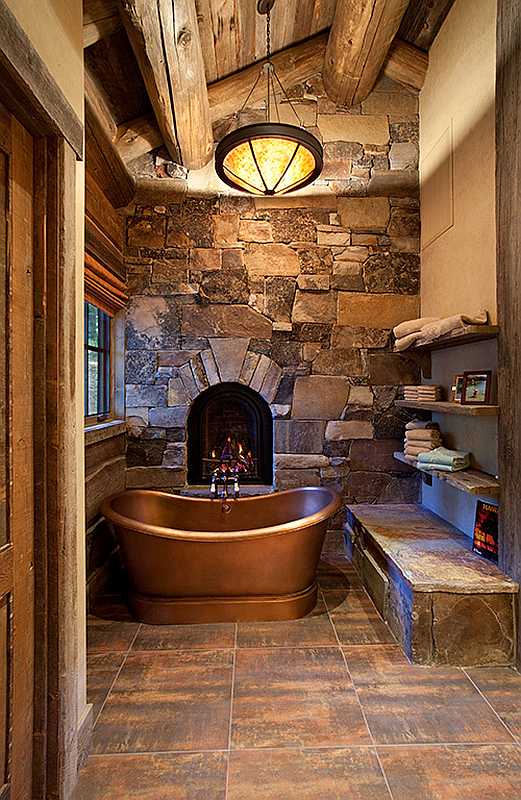 Every bathroom, large or small, needs some "wow" factor. Whether it's an eye-catching copper bathtub, a reclaimed barn door, or a pedestal sink fashioned from an old tree trunk, incorporate one-of-a-kind elements to create a focal point in your log cabin bathroom.
Embrace the less is more ethos.
Rustic doesn't have to mean run-down, and every nook and cranny doesn't have to be filled with stuff. To avoid assaulting the senses, don't go overboard with your theme. For example, keep animal imagery to a minimum (you don't need a bear-themed shower curtain and toilet paper holder and wastebasket).
Instead, add a few eye-catching touches throughout the space, like a hammered-metal mirror frame or a vanity made of reclaimed wood. Remember, less is more.
Add a hint of drama.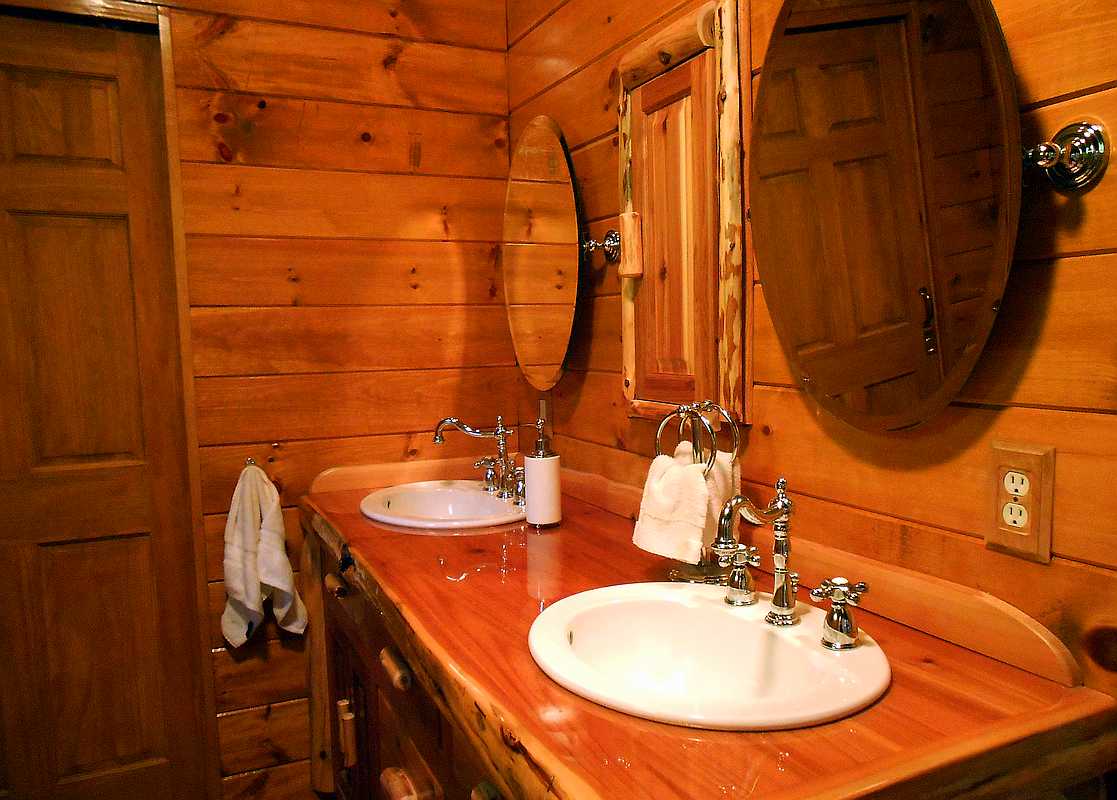 Fun accents are a hallmark of log cabin décor. A shiny metallic mirror frame or polished chrome bathroom fixtures can add just the right amount of opulence to an otherwise understated space.
A glass chandelier, pendant lighting, or an antique gold mirror frame can bring a little sparkle to the space without being overwhelming or detracting from the rustic log cabin aesthetic.
Mix patterns and textures.
Mixing patterns and textures is a hallmark of rustic-chic design. When done well, it doesn't have to be gauche. Use a mix of textures and patterns to create a sense of richness and depth—for example, light-colored wood paneling on the walls, patterned stone or tile floors, and bronze or copper wall sconces.
Use reclaimed accessories.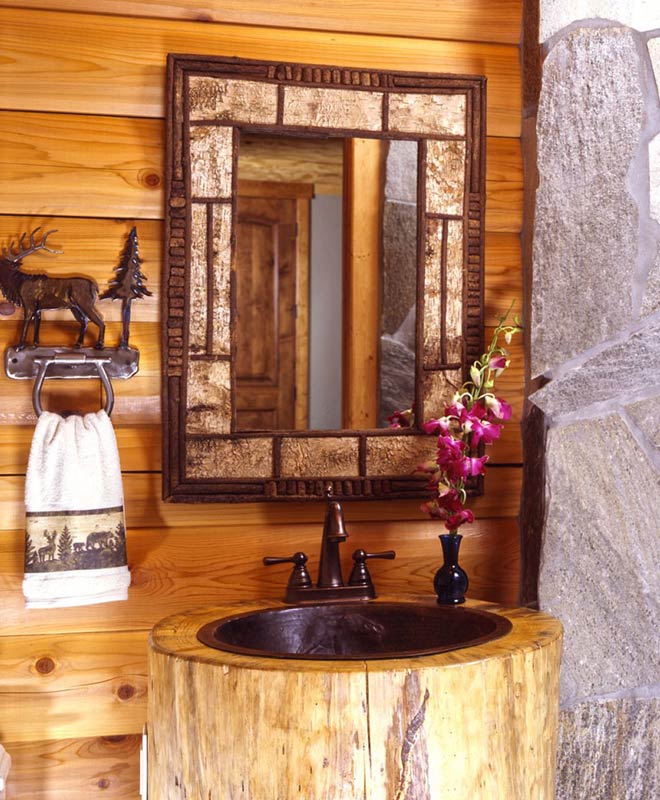 Reclaimed wood and metal elements are ideal for log cabin interiors. Weathered wood adds texture, character, and warmth. It also contrasts nicely with log walls and wood paneling. Think about using salvaged wood for the bathroom door, cabinet fronts, or on an accent wall.
There are myriad ways to incorporate reclaimed metal into your décor as well, from old hooks to vintage drawer pulls and handles. Scour your local junkyard and antique stores for treasures.
Choose light wood to brighten the space.
Light wood and large windows can make a small bathroom feel bigger and brighter. Choose a lighter wood species, like white pine, for the ceiling, walls, and doors. To preserve the light color of the wood, treat it with a sealant only, and avoid dark stains.
Find Your Perfect Log Home with eLoghomes
If you're thinking about building a log cabin, eLoghomes makes it easier. Our log home kits are fully customizable, so you work with your builder or contractor to create the bathroom (and kitchen, and great room) of your dreams.
We offer more than 200 fully customizable log home styles, from small cabins to multi-story luxury homes. Take a virtual tour of our homes, then search our extensive catalog to find your perfect log home!